News
2011 Calendar:Early February, Beginning Swiss Chip-Carving Class, Talkeetna, AK., courtesy of Art Mannix.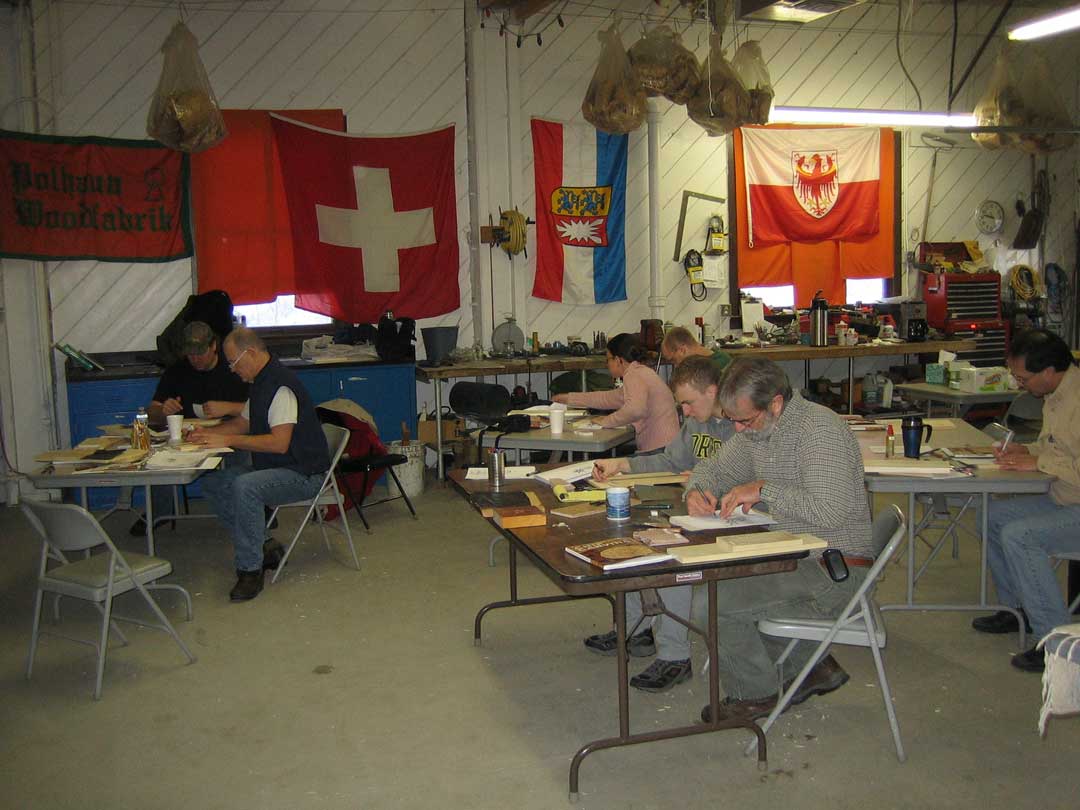 25-26 March, Booth, Master Gardeners' of the Tanana Valley, Westmark Hotel, Fairbanks.

April, One Tree and 16-Tree Exhibitions, Well Street Gallery, Fairbanks.

14-15 May, Foreign Folk Woodcrafts, UAF Summer Sessions, Polhavn Woodfabrik studio.

17-19 June, Beginning Swiss Chip-Carving, UAF Summer Sessions, Polhavn Woodfabrik studio.

25-29 June, Week in the Woods, UAF Summer Sessions, Fairbanks.

18-22 July and 25-29 July, International Wood Folkcrafts, Fairbanks Summer Arts Festival, Polhavn Woodfabrik studio.
2010 News: At Week in the Woods during 12-16 July I taught how to make wooden shoulder yokes for hauling water, etc. and Scandinavian fanbirds out of one piece of wood.

6-8 August I finally taught a Swiss Chip-Carving class for UAF Summer Sessions up at the Polhavn Woodfabrik studio. Great fun and so much easier fully-equipped without moving!

The studio has a much-needed addition, an 18x 22' storage shed to keep dry stripped stock as they season into rustic boreal beauties. Pete Holmgren will finish it in 2011 with spruce siding he milled up. It looks like an open-air German bier garten now!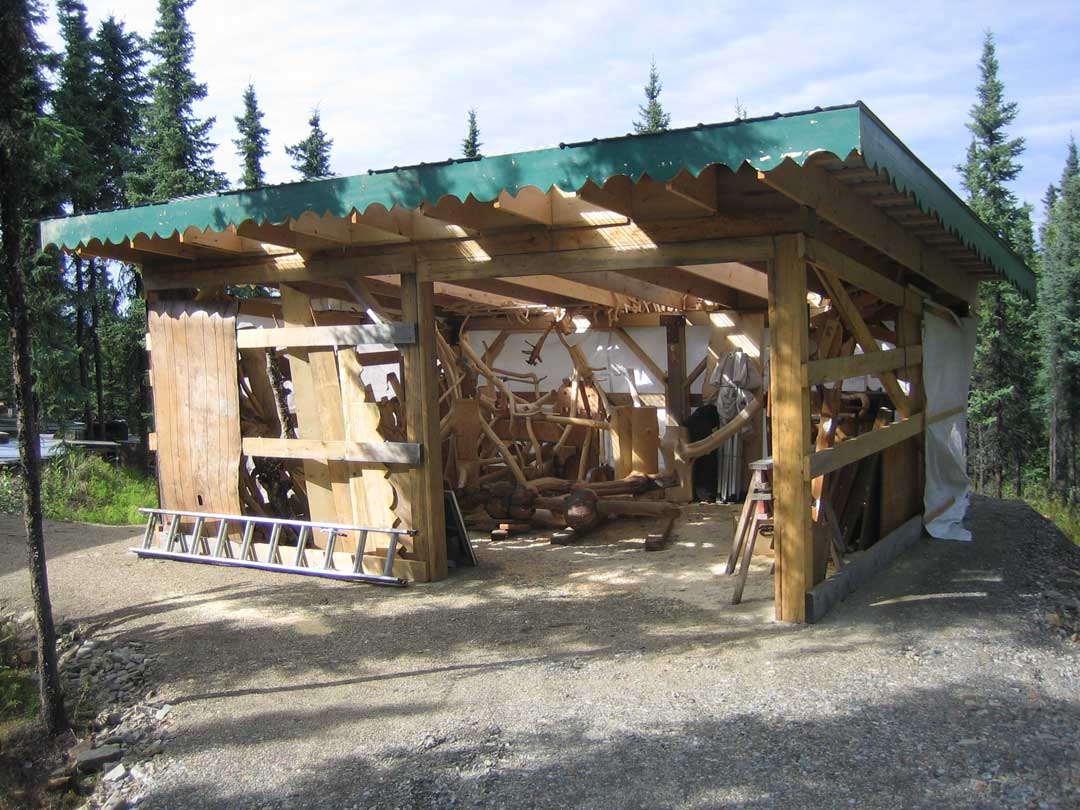 The big event of the year was my eleven-thousand mile roundtrip drive to the Adirondack Museum's 23rd Annual Rustic Furniture Fair, 10-12 September, in Blue Mountain Lake, N.Y. It is the premiere gathering of such artisans and I was delighted to have been invited to attend as a vendor. I packed full a small U-Haul trailer with 25 furniture pieces I had been making for the past nine months. My little red Nissan pickup pulled the entire rig with only one small fire the entire trip! John & Emily Zasada graciously hosted me as I picked up the Porcupine Chair at his Grand Rapids, MN residence. I had a wonderful quick visit with Mark Hansen and other woodworkers at the North House Folk School in Grand Marais, MN. After eleven days I finally arrived at the Fair. It was so stimulating to finally meet all these rustic woodworkers and to see their work first-hand. And the Fair itself, so well-organized even with thousands of attendees, was held in the alluring Museum full of rustic treasures and history.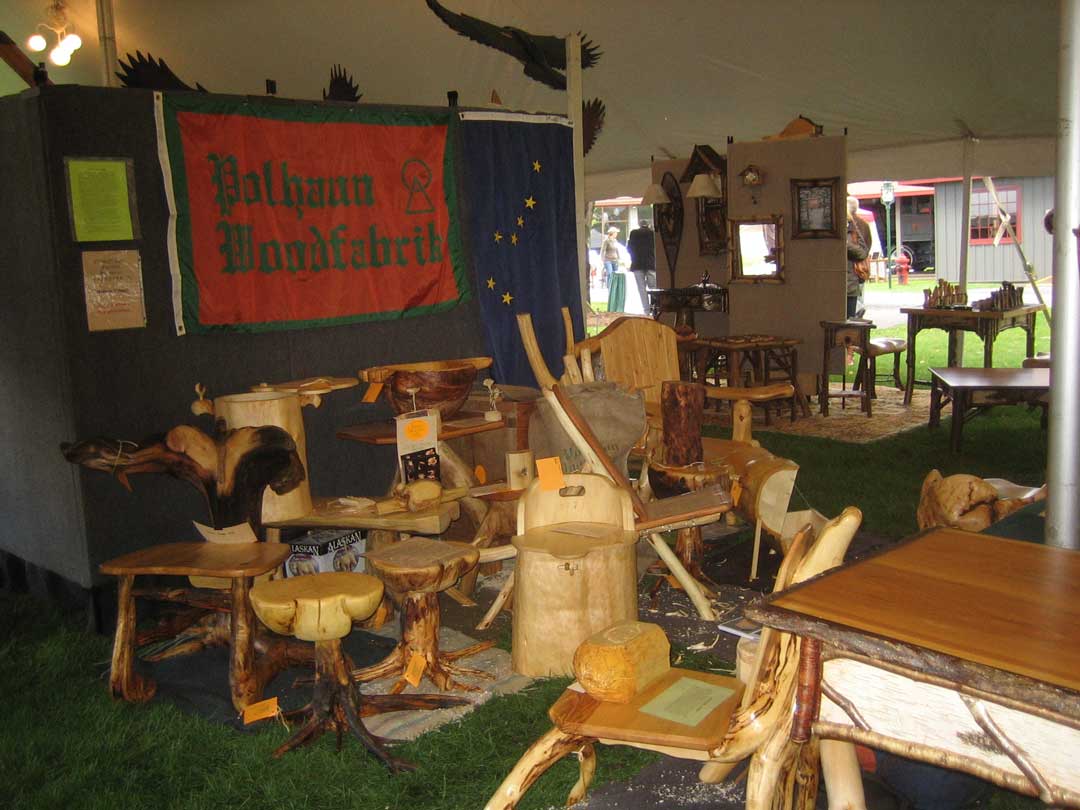 An old friend from Japan, John Urda, came up from NYC and provided yeoman's service. But I was relieved to finally be free of the trailer after the Fair's conclusion! A few remaining pieces, such as the Captain's Stump Chair and the Skeleton Chair are for sale at Steve Bower's Bald Mountain Rustics Gallery in Keene Valley, NY.

The remainder of the trip and the return to Alaska provided special woodworking research: Amish furniture makers in the Mohawk Valley, NY; Acadian chests in Cheticamp, Cape Breton Island, Nova Scotia; the magnificent Fortress Louisbourg with all its woodwork also in N.S.; the wood sculptors of St.Jean Port-Joli along the St. Lawrence in Quebec; delightful Quebec City with all its history, architecture ans select galleries; the chairs and carvings of the Mennonite Heritage Center in Steinbach, Manitoba; the tapered trunks at the Doukhobour Heritage Center in Veregin, Saskatchewan; and the buildings at the Ukranian Village outside of Edmonton, Alberta. And best of all, Jan accompanied me!

More travel but of a totally different kind ensued in November for two and a half weeks as I volunteered to teach Swiss chip-carving to woodworkers in Suchitoto, El Salvador. I taught two classes of ten students each for three days at the Centro Arte por la Paz arranged by Tony Gasbarro.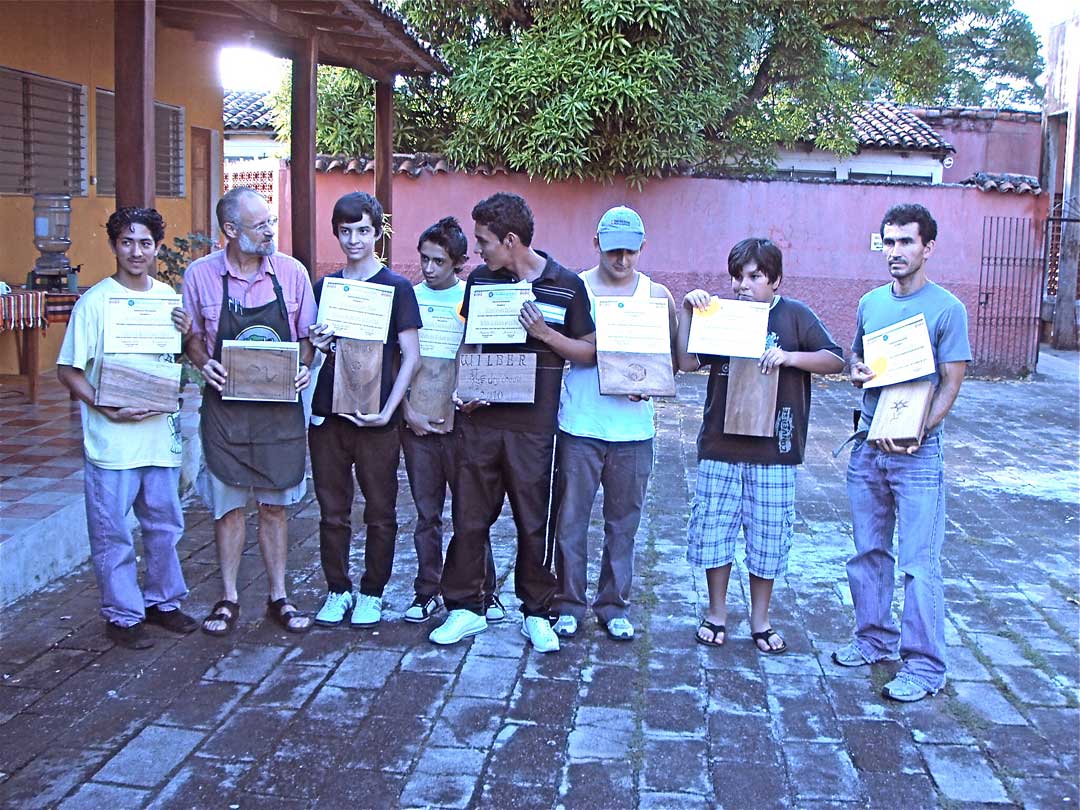 I hope my ancient Espanol didn't confuse them too profoundly! The intent of the class was to help them add value to their wood products. They will be able to work on their own with donated tool packets they can borrow. I resumed making Scandinavian fanbirds this winter. They can be viewed at Ya-Ya's Gallery in Fairbanks behind Safeway. Marty Hinz runs this quaint and snug venue with a rare blend of art & craft, both Western and Native.
2009 News: Some of my pieces are on display at the Ptarmigan Art Gallery in Homer, Alaska; Well Street Art Gallery and the loft at the Woodway, both in Fairbanks.

In April I received an Honorable Mention for my "Tree Konasana, #1" arm chair at the Fairbanks Arts Association's Interior Artisans XXIV Juried Show. Better yet, it sold!

Also in April I taught an international folk woodcrafts class for the Osher Lifelong Learning Institute of the University of Alaska/Fairbanks (UAF).

I applied for a Rasmuson Foundation Artist's Project grant, but no luck.

In July I was instructor again for the Week in the Woods where I taught rooster carving and bow drill making. I also harvested birch "Y"-pieces for the One Tree Project (under Dr. Jan Dawe) that will be ongoing throughout the year. I hope to craft my Tri-Y Pack Chair out of these.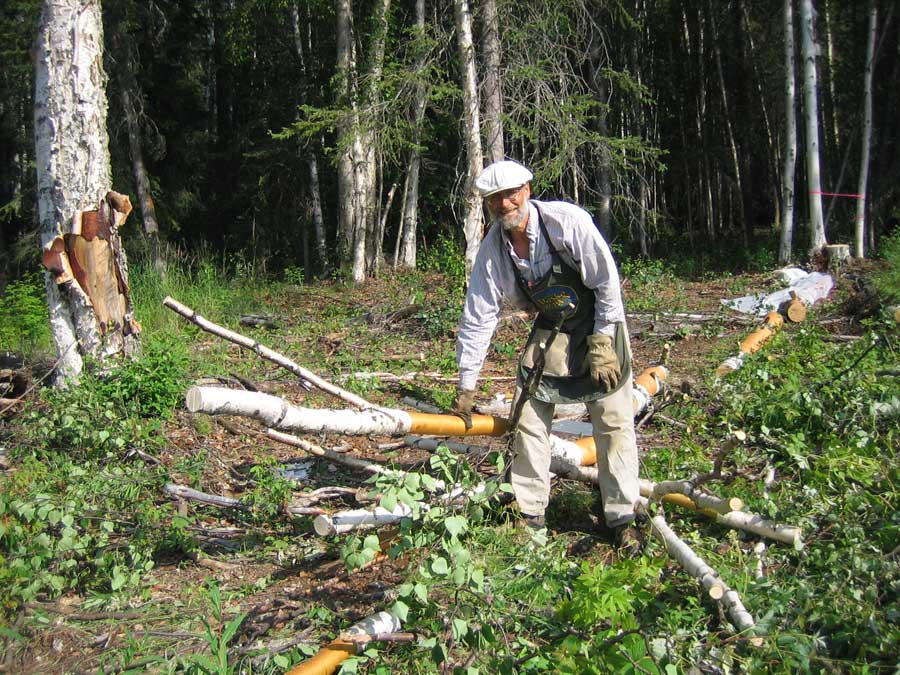 In mid-November I traveled down to the UAF Matanuska Experimental Farm outside of Palmer and taught a weekend Swiss chip-carving class. It was good fun with these adults in the old barn and thanks go to Dr. Val Barber of the UAF Forest Products Program, Palmer Research and Extension, for funding it.

And this year ended, as always, with my participation at the Tanana Valley Farmers Market Christmas Bazaar (which surprisingly went better than last!).
2008 News: In April 2008 I attended the "Coming Out of the Woodwork" Conference held at Vesterheim Norwegian-American Museum in Decorah, Iowa. It was a tremendous experience as I met many fine woodworkers, artists and sculptors both from this country and abroad. I took two workshops, one given by Dick Enstad on traditional Norwegian bent wood and coopered boxes; the other by Judy Ritger on kolrosing. Even managed to sell a Viking Alaskan spruce burl drinking bowl used at the BYOB ("bring your own bowl") beer social.

I had a First Friday Artists' Tour Show at the Public Lands Information Center in May 2008. It was a rare opportunity to exhibit works in progress.

July was busy working as an instructor for two classes, both with John Manthei. One was for the UAF Summer Sessions entitled "Treasures from the Woods" where we harvested contorted natural growths and helped the students create art and functional items at Pioneer Park. The other workshop was a "Week in the Woods" where students of all ages joined us to learn simple woodworking and folkcrafts. The weather was perfect!

In September I made the long trip back to Maine to attend Jon Brooks' class "Ideas Grown from Nature" held at the Center for Furniture Craftsmanship in Rockport. It was the first time I had been back to that area in almost forty years; it has changed. Jon is one of the few artists working for a long time with natural piece joinery, so I was very pleased to meet him and get many of my questions answered. A natural Y-yoke Kilvington Chair (based on African design) is one result.

For the month of November I was the Guest Artist at the Fairbanks Arts Association's Gift Shop in the Bear Gallery.

I had a booth at the Museum of the North's Artisans' Fair for two days in November. The building is an architectural allegory of the aurora borealis. And this site at the University of Alaska/Fairbanks (UAF) has an incredible view of the Alaska Range.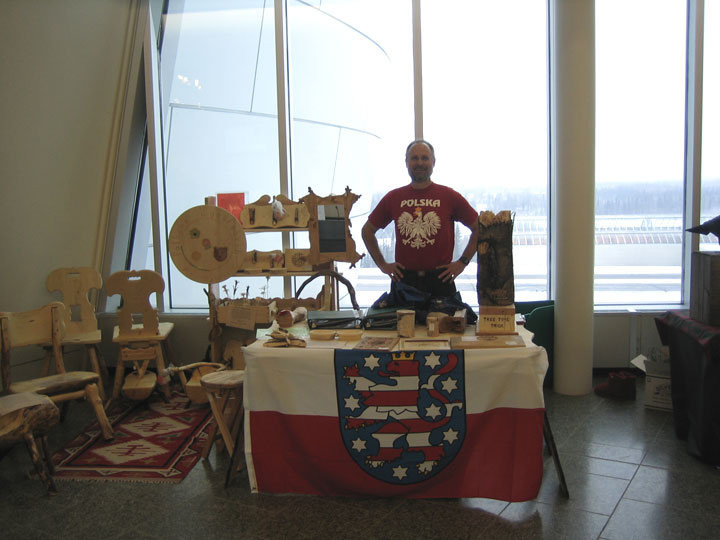 2007 News: The first sales from the website sent Swiss-German chairs in birch to Iowa.
In early June we received a wonderful visit from John Zasada and Dr. Charlie Mayo from Minnesota. They shared their many outstanding birch bark folkcrafts with us during the Boreal Forest Conference held at the University of Alaska/Fairbanks. In turn I conducted a fieldtrip with John Manthei to show attendees what forest trunks , roots and limbs we look for when crafting rustic furniture and other pieces. The outing was introduced with a picture program presented to the conference dinner about this type of work I do. Jan Dawe also helped organize an alpine flower carving workshop I taught one glorious evening at the Georgeson Botanical Garden.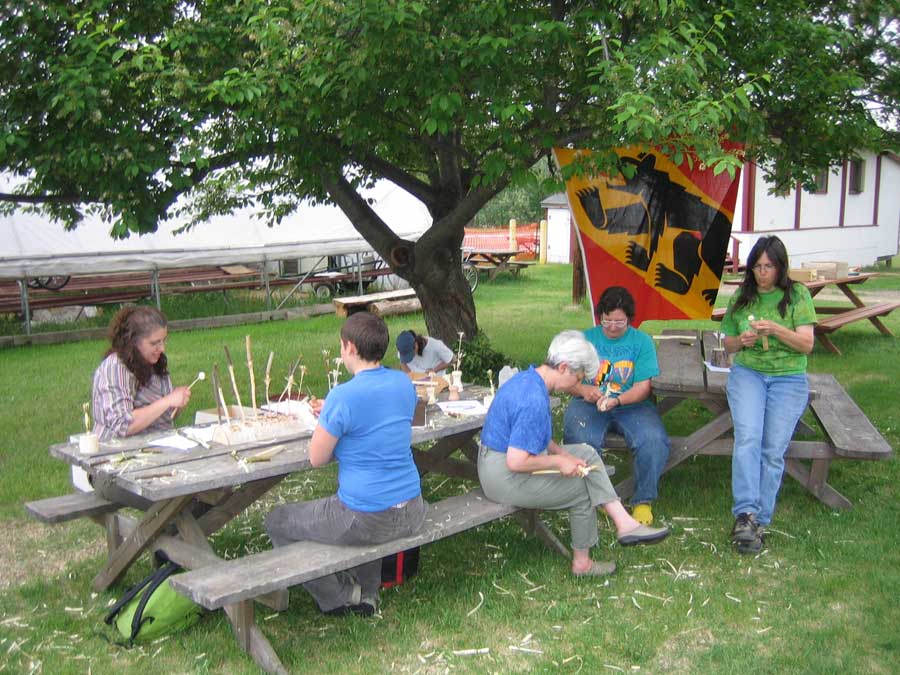 In August I journeyed over to southern Poland to search out fanbird carvers that Sally and David Nye of Fan Carvers' World had discovered. With tremendous assistance from various Polish friends both here and abroad, I managed to meet and carve with several raftmen from Sromowce Nizne. It was so gratifying to finally see someone else carve a fanbird after years of trying on my own. It turns out to be a folkcraft practiced for over a century by an entire village of Dunajec River boatmen! Thanks to Feliks, Josef and Wladyslaw.
2006 News: Winter and spring 2006 I designed using photos, sketches and clay maquettes several signs, some of which incorporated deep three-dimensional carved elements. The sign and furniture commissions have precluded me from attending the Farmers' Market this year. But there has been opportunity to finally turn to some of my giant spruce burls and rough-out a child's chair (courtesy of John Holmgren, master machinist).
Wood harvesting has been a joy with a Tanana River boat ride courtesy of John Manthei to collect some rustic river beauties (wood, that is); other hikes; and salvaging special larch logs from longtime supporters Walt and Joanne Bruner out on Chena Hot Springs Road.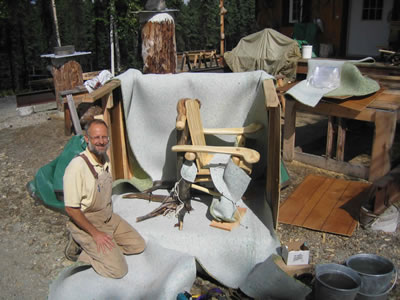 Earlier logs of theirs were milled to make gorgeous seat and back slabs that have gone into a special rustic armchair shipped to the "Trash from the Swamp" art show in Grand Rapids, Minnesota, headed by John Zasada, old Fairbanksan forester now returned to his childhood home. This speciality crafted from a double-trunk entwined black spruce stump is decorated with porcupine carvings in honor of the beastie's gnawing on the head rail!

The studio has benefited from construction of a tablesaw outfeed table and a miter saw bench. Major outside work enlarged and leveled storage and working areas, and the old shed has been relocated and enlarged to provide more dry storage. Sally-Anne Sherman helped under all kinds of conditions in these endeavors.

Our computer connection is back up with a new address: pmarshall@acetekk.com.

The pickup truck is colorful with the new business signs!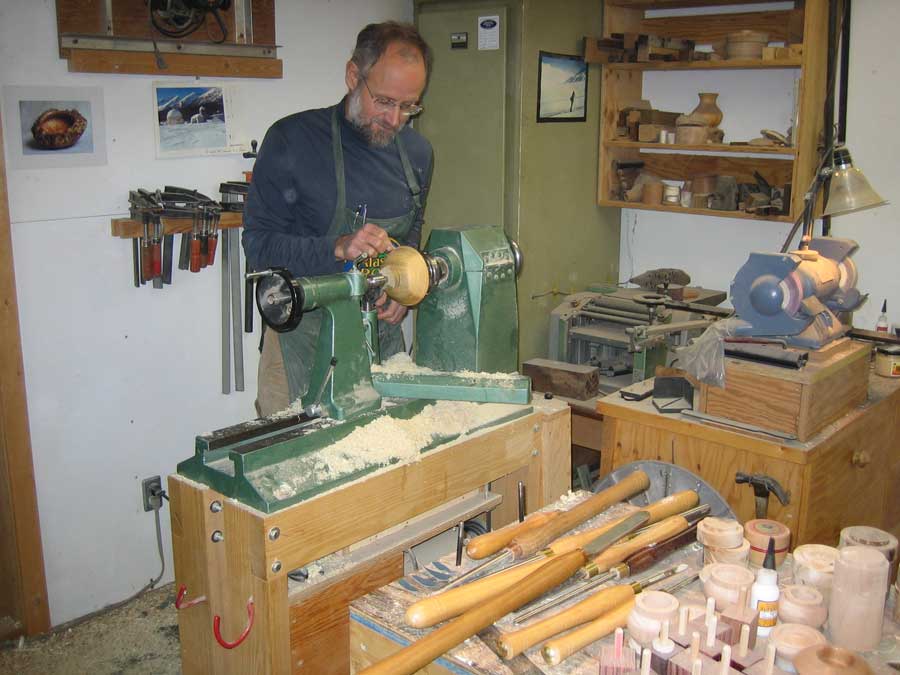 In November Jan and I drove to Whitehorse, Yukon Territory, where we stayed with longtime friends, Jurg Hofer and Linda Gerrand. Jurg is a master woodturner and I was fortunate to study under him for several days to learn how to turn bowls, lamps and boxes.
The season ended with the Tanana Valley Farmers' Market Bazaar where Swiss-style chip-carved plaques, soap dishes and some rustic furniture pieces were sold.
2005 News: During the winter I (Philip Marshall) had woodworking tutorials with master joiner Kent Pyne in the studio. We covered sharpening and conditioning of hand planes; trueing heavy machinery; dressing and squaring lumber; marking layouts; and dovetailing.
Rachel Potter energetically helped design and then installed the Polhavn Woodfabrik website we photographed and wrote.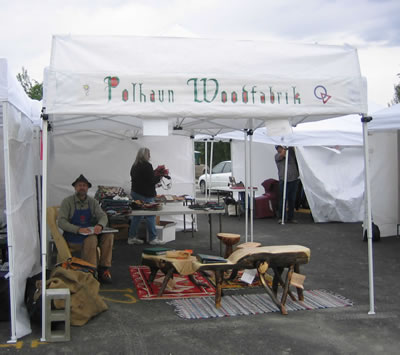 Spring allowed some of the work to move outside as rustic furniture pieces were crafted for the Tanana Valley Farmer's Market here in Fairbanks. With purchase of a tent, I had a booth most Saturdays at the market. I demonstrated some folkcrafts (Norwegian seljefloyte making, Alpine flower carving and Swiss chip-carving). Pieces for sale were Summit Stump Stools and tables; Deltas log benches, stools and endtables; Burlesques stools; and Scandinavian bird fan carvings. This activity generated commissions for furniture, signs and carvings.
Master woodworker John Manthei generously helped in the fall with some rustic furniture construction challenges including wedged through-tenon joints.
John Murphy also graciously advised on shop design and tools.
Major new pieces were a myrtle slab coffee table, rustic armchair (made for a Univ. of Alaska/Fairbanks sculpture class) and an askur or Icelandic hinged-lid porridge bowl but made from an Alaskan burl bowl, not coopered. Out in the field Tor (my K-9) and I collected wonderful naturally-curved trunks and branches, often fire-killed, but a great many from slash piles.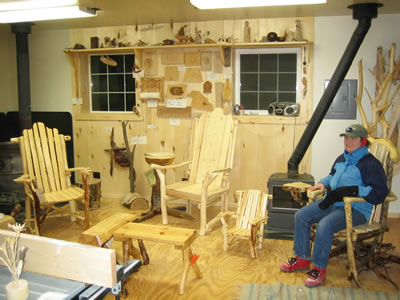 At Thanksgiving the studio was open for the Studio Artists' Tour.


The year concluded with the Tanana Valley Farmers' Market Bazaar and a display at the Annex Art Galley out in Ester, Alaska, where several chairs and sculpture found new owners.

Throughout all these, Jan Lokken, my partner and better half, has been a rigorous critic, vital creative inspirer and my staunchest supporter.